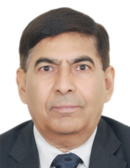 Dear Fellow Members,

It is my proud privilege to be the Chairman of Indian Institute of Metals, Delhi Chapter and I feel honored to serve this chapter having illustrious members from industries, R&D Institutions, Academia & Government. I would like to sincerely thank the EC members for reposing their faith in me & look forward to our collective leadership in organizing various technical activities & cultural events with larger participation to take this chapter to greater height.
I would also like to thank all past Chairmen and Executive Committee Members for their outstanding contributions in making this chapter most active and vibrant. Unlike many chapters who are mentored by corporate houses for carrying out their technical activities, entire credit goes to its members for their active participation & dedication for making Delhi chapter most dynamic & energetic.
Country has witnessed steady growth in mineral & metal sector in the past with India become the second largest steel producer in 2018 replacing Japan with 106.5 Mt steel production. But the sector is now facing substantial challenges due to recent environmental, societal, economic and technological development which lead to fourth stage of industrial revolution. The fourth industrial revolution termed as Industry 4.0 is empowered by wide range of digital technology, new materials, artificial intelligence, advanced robotics, machine learning, new formation of automation etc etc. One such example is the next generation of electric vehicles (EVs) begins to hit the roads. Steel is set to play a vital role because in recent years,it has increasingly been favoured over aluminiumas a material of choice in EV constructionlargely because of its lower cost & superior strength. Materials like Advanced High Strength Steel are going to play a important role in lowering vehicle weight while still offering high passenger safety.
Another most talked subject today for manufacturing sector is the circular economy in which society reduces the burden on nature by ensuring the resources remain in use as long as possible. As a permanent material, steel is fundamental to achieving the circular economy. It is easy to reduce the weight of steel product by developing new materials with enhanced physical & mechanical properties & steel components can be effectively reuse, remanufactured or recycled. As such, our focus will be to organize more& more technical activities related to current & futuristic industry oriented issues.
I look forward to have more suggestions and ideas from our members to enhance the activities of Delhi Chapter. I am confident that with your support and active participation, we will continue to build excellence in Delhi Chapter and make this chapter more industry-oriented.
With best Regards,
K.K.Mehrotra
CHAIRMAN