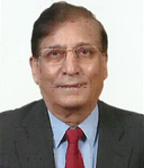 Dear Fellow Members,

I extend my grateful thanks to the newly constituted Executive Committee of our Chapter for once again reposing trust in me to discharge the responsibilities of Chairman for 2017-18. I am humbled to accept this position with a sense of responsibility for serving the interests of the Chapter for one more year.
In the year 2016-17, our Chapter conducted a number of technical activities at our Chapter. The flagship event of the Chapter, namely, MMMM 2016 event consisting of Exhibition and concurrent International Conference in Minerals, Metals, Metallurgy and Materials (MMMM) was successfully organised at Pragati Maidan, New Delhi, from 10th to 12th August 2016. This would not have been possible without the cooperation of our esteemed members. About 35 countries participated in the Exhibition. While the Exhibition was visited by about 15000 trade visitors, the Conference was attended by about 200 participants from various organisations in India and abroad.
Our Chapter possesses excellent infrastructural facilities in terms of auditorium, board room and library. In 2015-16 we installed CCTV coverage at our Chapter. In 2016-17, we installed elevator and solar panel at the roof top of our Building. This has added sheen to the ambience of our Chapter. This has also resulted to some extent to minimise the carbon footprint in terms of mitigation of CO2 emission.
Although we are trying our best to undertake technical activities to the members' expectations, there is always a scope for improvement. This year we have made a calendar of technical activities planned to be undertaken by us. This is an ambitious plan of technical activities. Our learned members have immense potential to further the cause of the metal and mineral sector. I look forward to the cooperation and involvement of all our valued members in implementing this plan of technical activities at our Chapter. I have no doubt that with the active support and involvement of all members our Chapter will scale new heights in technical activities.
I once again convey my gratitude to the members in entrusting me the responsibility to serve the Chapter for 2017-18.


K L Mehrotra
CHAIRMAN