About IIM Delhi Chapter
1.0 Background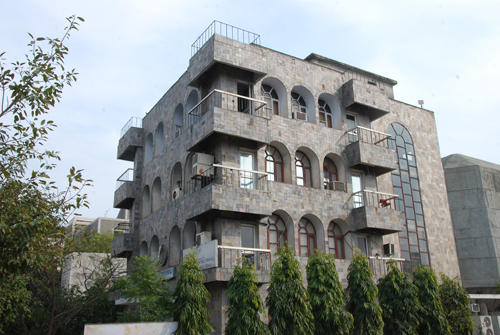 The Indian Institute of Metals, Delhi Chapter has acquired a unique and important status among all Chapters of IIM. Founded in March 1953, this Chapter celebrated its Silver Jubilee in October 1978 and Golden Jubilee in September 2002. Late Dr. D N Wadia, the internationally famous geologist, was the first Chairman of Delhi Chapter and continued until 1963. He was followed by eminent metallurgists and senior government officials, who provided leadership, guidance and wise counsel for Chapter's growth.
The Chapter acknowledged the services of Past-Chairmen and Honorary Secretaries first in 1978 on the occasion of Chapter's Silver Jubilee and then again in 2002 at the time of Golden Jubilee. Periodically it honors its workers and office bearers for selfless and committed services they have rendered to the Chapter. The Chapter started with only handful of members. They were mostly Government officials and some from the industry. In Sixties, the number of members increased to ~ fifty. With a number of Public Sector metallurgical industries having their head offices or branch offices in Delhi; the membership started swelling from Seventies. The present membership, in good standing, stands 309 (31Mar2016). There are many non-metallurgists or well placed technologists working in metallurgical industries who can be enrolled as members. We are making efforts to enroll them as members of IIM. A number of personnel from the offices of DGFT. Ministry of Mines, Ministry of Steel and Ministry of Industry, DGTD and Planning Commission, who were enrolled as members are presently occupying senior positions or have retired from active service.
The Delhi Chapter had the privilege of hosting the U. K. Iron and Steel Institute meeting in 1962. The Indian Institute of Metals collaborated with South American Metallurgical Institute and held inaugural Delhi meeting in India, called ILAFA, in February 1967 followed at Ranchi, Jamshedpur and Kolkata on Direct Reduction of Iron Ore. The Delhi meeting was inaugurated by the then Vice-President of India, Late Neelam Sanjeev Reddy, who later became the President of India. In 1972 the Chapter was the host for the IIM's Silver Jubilee function held in Hotel Ashok. The Golden Jubilee function held in 1996 at Vigyan Bhawan, was also hosted by the Chapter.
2.0 Activities
Since its inception, the Chapter has been very active in organizing a number of technical events and lectures delivered by nationally and internationally reputed personalities. From 1978, after the change of IIM Policy to make Chapters more active, IIM Delhi Chapter has been making all out efforts to organize at least one National Seminar every year. It had the unique distinction of organizing, on its own initiative, the first ever International Conference in India on Aluminum (INCAL'85) in 1985. Many foreign technical experts from USA, UK, Germany, France and Canada presented technical papers on various aspects of Aluminum production, processing and uses. Over 700 delegates participated in the Conference held in Vigyan Bhawan, New Delhi. INCAL 85 was inaugurated by Shri Pranab Mukherjee, the then Union Minister of Steel & Mines. Another International Conference was organized by the Chapter on "Forgings" known as FORGE INDIA 95 in April 1995.
The Chapter has conceived & organized a unique event of holding an International Metallurgy Exhibition & Conference coinciding with The Golden Jubilee celebrations of IIM during 1996. This Grand Event has been, from then onwards, being organized by the Delhi Chapter biennially i.e. 1998, 2000, 2002, 2004, 2006, 2008, 2011, 2012 and 2014. The 10th such Conference cum Exhibition was organized during 04-07 September 2014. The Metallurgical Exhibitions organized during these events have attracted visitors from National & International corporate world and have generated substantial business. The Metallurgical and Mineral industries have exhibited their products, processes and equipment. Many International companies have participated in the event and they look forward to the next one with great enthusiasm, as it provides a single significant platform for technological information as well as business opportunities. This entire event is now known as MMMM (Minerals, Metals, Metallurgy and Materials). This event has been very much appreciated by National Council of the Indian Institute of Metals. From every such Event and other activities organized by this Chapter, surplus monetary contributions are shared with IIM Headquarters. During last such event - MMMM 2014 - an International Conference on `Emerging Trends in Metals and Minerals Sector', was organized simultaneously with an International Exhibition.
The Chapter organizes METALLICA quiz annually for school students. The winner team is being sponsored by the Chapter to national Dr. Brahm Prakash Memorial at Kalapakkam.
To perpetuate memory of Shri R P Varshney, the leading founder member of IIM-DC, the Chapter organised a `Quiz Programme for Engineering Students' on 31Oct.2015 at Chapter premises. Encouraged by the success of this Quiz, it has been decided to make this Quiz an annual feature.
Some of the Forthcoming activities of IIM Delhi Chapter are:
Skill development programmes
Strengthening interactions with MSMEs for broader outreach of IIM
Organise technical talks, workshops, interaction sessions on regular basis
Thrust on membership enrolment
Organize International Conference during the MMMM 2016 Event on `Minerals & Metals and their contribution to Make in India', coinciding with International Exhibition during August 2016 at Pragati Maidan, New Delhi.
3.0 Infrastructure Facilities
Encouraged by the success of Seminars and other events, the Chapter nourished the idea of having its own premises. During the inauguration of Chapter's Silver Jubilee in 1978, the then Minister of Defence, Late Babu Jagjivan Ram, while delivering inaugural address took note of the request of the Chapter in the welcome address and promised to recommend allotment of land for constructing a building for the Chapter's Office. The Ministries of Steel and Industry recommended to DDA for allotment of land to the Chapter. The then Chairman of SAIL, Mr. S Samarapungavan got the Delhi Chapter's building proposal approved by the IIM Council. He was instrumental in generating resources and provided constant guidance. Mr. V. R. Subramanian, the then Executive Director of ILZDA and Past-Chairman of IIM-DC pursued the matter steadfast and got 1000 Sq. meter plot allotted by DDA in August 1985 in Tughlakabad Institutional Area. With the active support, help and guidance from the then Chairman of Steel Authority of India Ltd (SAIL), an appeal was made to all Mineral and Metallurgical industries in India to liberally contribute for the building. The Foundation stone laying ceremony was held on 10th October 1989 by the then Minister of Steel, Shri M L Fotedar. SAIL contributed the entire requirement of Steel. Board room was furnished by M/s Industrial Cables Ltd., Delhi.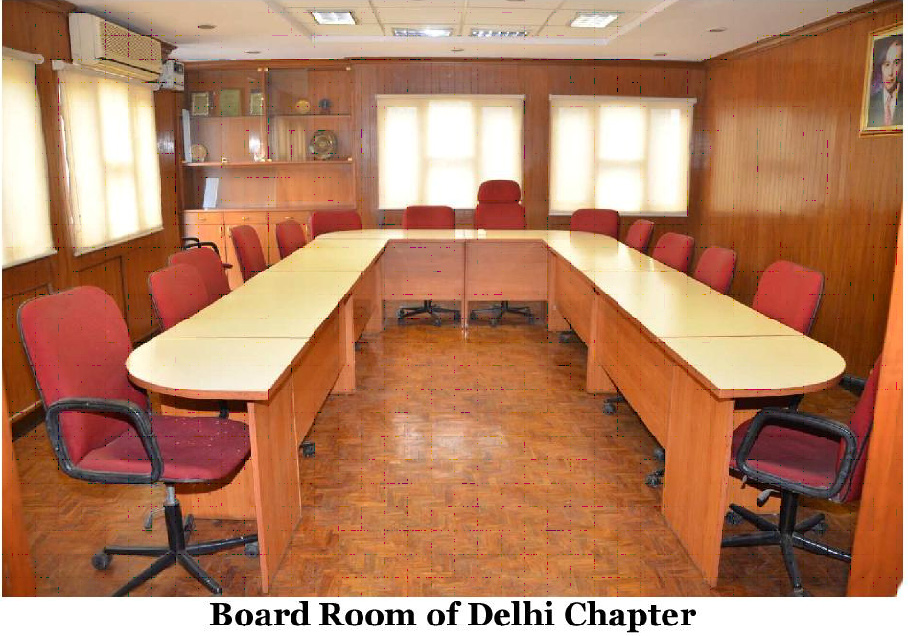 Delhi Chapter building is the most spacious among all Chapter premises of the Indian Institute of Metals in different cities of India.
The Lecture Hall of Chapter's Building was upgraded with complete air conditioning and modern audio visual facilities in June 2011. It has ~ 120 seating capacity. This hall is being extensively utilized for organizing Workshops, Seminars and Technical Talks.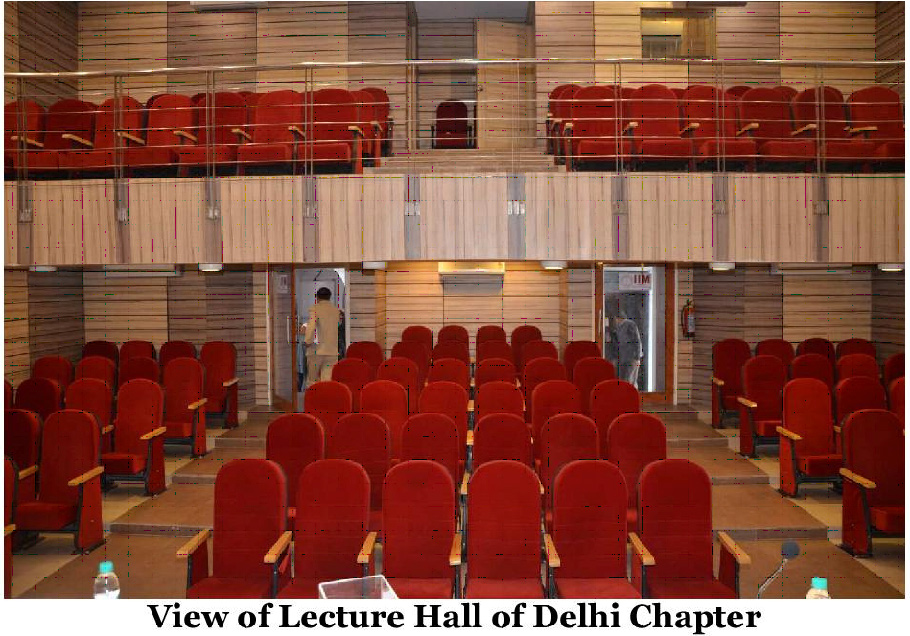 The Chapter has a good library facility. The library has about 700 books and journals in the ferrous and non-ferrous sector.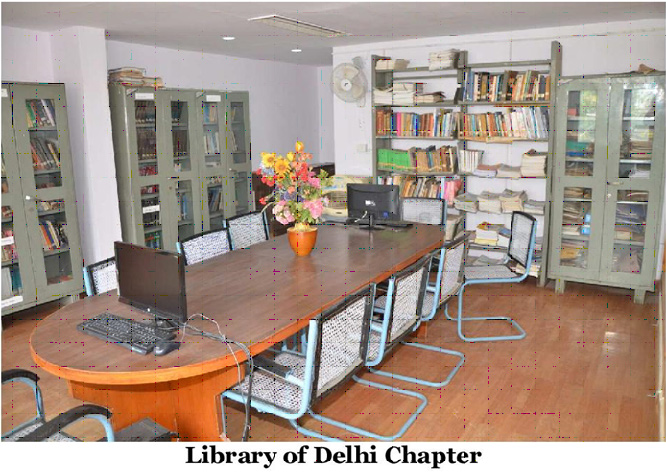 The Executive Committee has recently taken a decision to install the lift for effective utilization of 2nd and 3rd floors. The job has commenced and the lift is expected to be fully commissioned by Sept.2016.
A proposal is on the anvil to install the Solar Panel System on the roof top of our building.
THE INDIAN INSTITUTE OF METALS – DELHI CHAPTER
- Key Office Bearers
Year
Chairman
Secretary
1953-59
Late Dr. D N Wadia
Shri Balaram K. Mahendra
1959-63
Late Dr. D N Wadia
Sh. K C Srivastava
1963-64
Late Shri C J Shah
Sh. K C Srivastava
1964-65
Late Shri C J Shah
Late Sh. R P Varshney
1965-66
Late Shri D. Swarup
Late Sh. R P Varshney
1966-73
Dr.P.Dayal
Late Sh. R P Varshney
1973-77
Dr.P. E. Mehta

Late Sh. R P Varshney

1977-82
Dr. D.P.Jain
Late Sh. R P Varshney
1982-85
Late Shri V R Subramanian
Sh. L Pugazhenthy
1985-86
Late Shri V R Subramanian
Dr. S K Gupta
1986-87
Shri B D Jethra
Dr. S K Gupta
1987-89
Shri B D Jethra
Sh. P N Shali
1989-90
Shri B D Jethra
Late Sh. R K Gupta
1990-92
Shri J. Majumdar
Late Sh. R K Gupta
1992-93
Shri B R Tukral
Late Sh. R K Gupta
1993-96
Shri C L Sengupta
Late Sh. R K Gupta
1996-97
Shri P N Shali
Late Sh. R K Gupta
1997-2001
Shri P N Shali
Sh. M.M. Bandyopadhyay
2001-02
Shri P N Shali
Sh. M.M. Bandyopadhyay
2002-03
Dr. S K Gupta
Sh. M.M. Bandyopadhyay
2003-04
Dr. S K Gupta

Sh. P R Chandna &
Sh. Udayan Sen

2004-05
Late Sh. R P Varshney
Sh. A R Kaujalgi
2005-06
Late Sh. R P Varshney
Sh. Udayan Sen
2006-07
Late Sh. R P Varshney
Sh. Deepak Sen
2007-08
Late Shri R.K.Gupta
Sh Kuldeep Singh
2008-09
Late Shri R.K.Gupta
Dr. G.N.Mohanty
2009-10
Shri Raj Tiwari
Sh V.C.Singhal
2010-11
Shri Raj Tiwari
Sh V.C.Singhal
2011-12
Shri Anil Gupta
Sh V.C.Singhal
2012-13
Shri Anil Gupta
Sh V.C.Singhal
2013-14
Shri S C Suri
Sh. Manoranjan Ram
2014-15
Shri S C Suri
Sh. Deepak Vaidya
2015-16
Shri K L Mehrotra
Sh. Manoranjan Ram
2016-17
Shri K L Mehrotra
Sh. Manoranjan Ram
Major Conferences / Seminars organized by IIM Delhi Chapter Since 1978
Year
Conference/Seminars
October 1978

Aluminum production in India and technological
Advancement

December 1979

Electric steel making in India
(Jointly with Steel Furnace Association of India)

October 1980
Small Scale metallurgical Industries in India
August 1981
Non Ferrous semis manufacture in India
October 1982
Manufacture of stainless steel in India
August 1983
Small Scale metallurgical Industries in India
September 1984

Die-Casting of Aluminium & Zinc Alloys

Oct-Nov 1985
International Conference on Aluminum (INCAL)
April 1986
Manufacture of Brass art ware
April 1987

Technology to produce steels by Induction Melting
Furnace Route (Jointly with AIIFA)

October 1989

Improvement in steel making through Induction Melting
Furnace (Jointly with AIIFA)

October 1990

Pollution control in metallurgical industries

November 1991

Efficient use of sponge iron in Induction Furnace (Jointly with AIIFA)

April 1995
Forge India-95 seminar on forgings
1996 
The Metallurgical Industries in India prospects
1998 
International seminar on Advances in Metallurgy
2000 

International seminar on Minerals, Metals & Metallurgy in
the 21st Century

2001
International Conference on Bars, Wires & Rods
2002
International seminar on Metals & Materials for the Automobile Industry
2003
National Seminar on Stainless Steel Fabrication
2004

International Seminar on `The Emerging Trends in Metals & Materials – Mining, Manufacturing & Markets'

2005

Non Ferrous Metals – Strategies for Competitiveness & Globalization (NF 2005 towards Global Excellence)

2006

International Trade Fair & Conference on `Unleashing India's Potential in Metals & Minerals'

2008

National Seminar on Energy, Environment & Economy in Metallurgical Industry

2008

International Conference on `Towards Leadership in Minerals and Metals' coinciding with 46th national Metallurgists' day and 62nd Annual technical meeting of the Indian Institute of Metals

2009
National seminar on PRODUCTION AND PROCESSING TECHNOLOGIES OF ALLOY AND SPECIALTY STEELS (PASS 2009)
2011

International Exhibition & Conference on `Indian Metals Industry – Shaping the Next Decade" held on 11 – 14 February 2011 at Pragati Maidan, New Delhi

2012
International Exhibition & Conference on `Resurgent India – Vision 2020 in Metals and Minerals Sector" held on 27 – 30 September 2012 at Pragati Maidan, New Delhi
2014
International Exhibition & Conference on `Emerging Trends in Metals and Minerals Sector' held on 04 – 07 September 2014 at Pragati Maidan, New Delhi
2016
(forthcoming)
International Exhibition & Conference on `Minerals & Metals and their contribution to Make in India' to be held on 10 – 12 August 2016 at Pragati Maidan, New Delhi